Fire Safety Curtains
Fire curtains are a key component in a theater's or auditorium's fire safety system. Most building codes require a self closing fire curtain to protect the audience. Northeast stage provides and installs JR Clancy fire curtains. the smart, economical solution for new theaters and a logical upgrade for existing systems.
For design, installation, or service for your fire safety curtain project, please contact one of our rigging experts.
Types of Fire Curtains
There are basically two types of fire curtains, straight lift or brail, which can be either manual or motorized.
Straight Lift Fire Curtain
The most straightforward design is the straight lift fire safety curtain system, which is used when the available space is more than twice the proscenium height. A counterweight set is used to balance the weight of the curtain. Motorization is possible using a traction drive.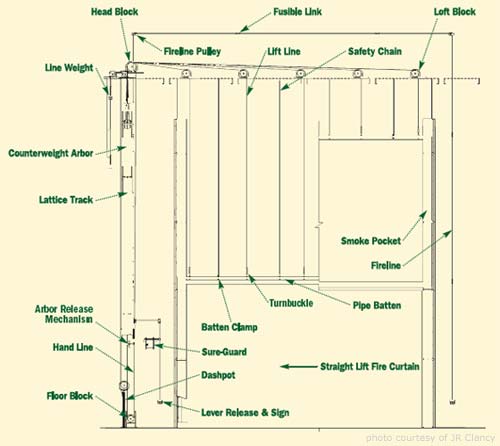 Brail Type Fire Safety Curtain
This system is used when the space above the proscenium is as small as half the height (or even less) of the proscenium opening. This type of curtain is not counterweighted, but is operated by a brail fire curtain winch. Both manual and powered winches are available.
Heat Resisting Borders (Heat Stop Borders)
Northeast Stage provides and installs JR Clancy heat resistant borders. They are made of ZetexPlus 800 fabric (26oz. Sq yd) and are available in natural tan and black. They are used to prevent hot spots (due to high temperature theatrical lights) from damaging stage curtains.
For a quote on a fire curtain or heat resistant border please contact us.
Certified to keep your stage safe
Our goal is provide you with the highest quality stage services and products, while ensuring the safety of your staff, performers and guests.