Motorized Rigging Systems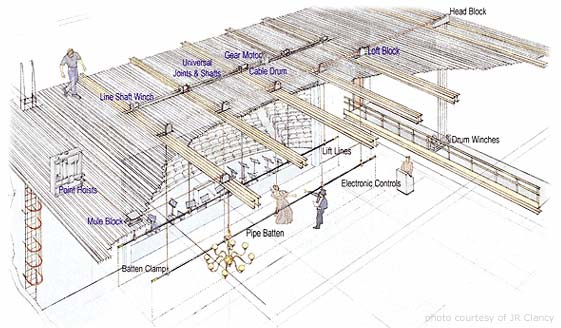 Motorized Rigging Systems are best employed for heavy, multi-element sets that must be flown in with speed and accuracy in complex sequences.
Motorized rigging systems do not require counterweights, so the systems are easier to operate. Computerized control systems provide an unmatched level of precision and repeatibility for cues and timing, making each performance uniform, while still maintaining any overrides necessary for safety.
Motorized systems are not only found in major opera houses, theatres, arenas, and studios, but even in high schools, colleges, performance arts centers and cruise ships.
Northeast Stage installs only the highest quality motorized rigging systems. For design or installation of a new motorized rigging system, maintenance of an existing rigging system, or to purchase rigging hardware, please contact one of our rigging experts.
Certified to keep your stage safe
Our goal is provide you with the highest quality stage services and products, while ensuring the safety of your staff, performers and guests.